PAIN MANAGEMENT
FROZEN IN TIME is excited to announce that we are the only business in Riverside County that you'll find this state-of-the art localized cryotherapy technology for pain, rehab, and inflammation!

We are 100% nitrogen-free which means we won't blow harmful chemicals on you!

There's no need to subject your entire body to freezing temperatures when we can target cryotherapy treatments in a specific area!
Goodbye Pain.
Our localized cryotherapy pain management sessions treat specific areas of the body to alleviate pain, reduce inflammation, and speed-up recovery. Why subject your entire body to freezing temperatures when we can target your treatments?

Localized cryotherapy uses near-freezing air to aggressively reduce inflammation and swelling. At nearly 20 times the intensity of an ice pack, you can expect inflammation to effectively jump out of your body from the moment the session starts!

These cryotherapeutic treatments are great for pain in the neck, shoulders, wrists, elbows, lower back, hamstrings, quads, knees and ankles.

Spot Cryotherapy can also be used to improve the appearance of chronic skin conditions like eczema, psoriasis, and rosacea. LEARN MORE about how we can help problematic skin conditions!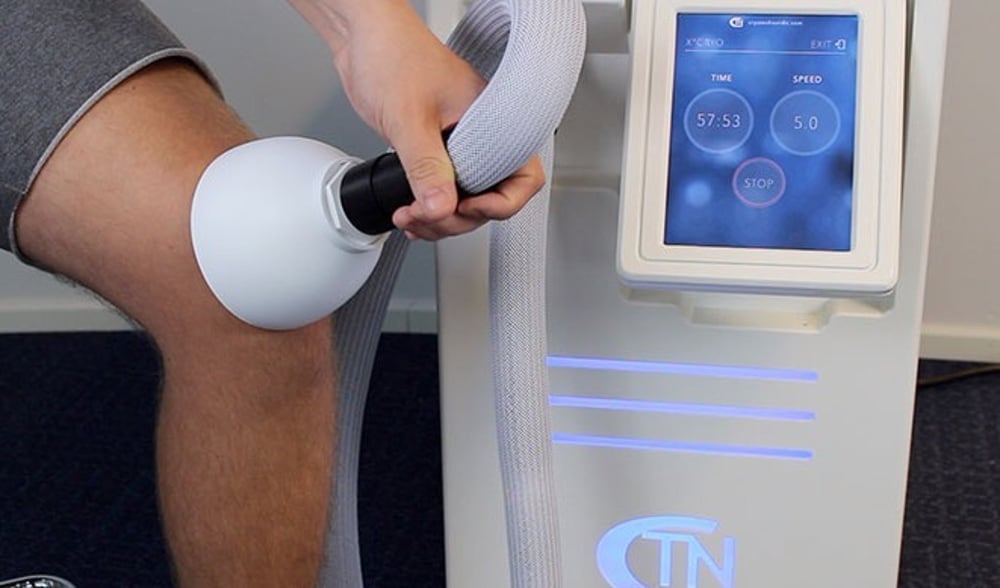 DECREASES PAIN & INFLAMMATION
Localized cryotherapy significantly reduces inflammation in a matter of minutes! Because swelling is typically the cause of pain through the chronic stimulation of nerve-ending receptors, a dramatic reduction in an inflamed area can result in immediate relief on even the worst of musculoskeletal pain.
PROMOTES AN ACTIVE LIFESTYLE
When you are in pain, it's very difficult to want to remain active. A chronic illness or injury shouldn't force the rest of your body out of physical activity. Localized cryotherapy is a powerful pain management tool that can be used to elevate pain in order for you to stay active.
ENHANCES RANGE OF MOTION
A reduction in swelling means a significant improvement in joint range of motion. Localized cryotherapy is a great treatment to use on both chronic and acute injuries!
SPEEDS UP RECOVERY
Following a localized cryotherapy session, blood is redistributed back into the region. This effect leads to faster recovery for damaged cells due to the increase of oxygen, nutrient, and enzyme availability.
MINOR CONSENT FORM
All Youths under the age of 18 must present a completed Minor Consent Form prior to participation in any services.

Click Here to Download / Print the Minor Consent Form.

The completed form can be scanned and emailed to [email protected] OR presented at the time of service.