MUSCULPTING
Musculpting is a cutting-edge High-Intensity Focused Electro-Magnetic (HIFEM) device that reshapes your body by building muscle and burning fat.

This technology uses high-intensity electromagnetic energy to trigger a rapid-fire burst of muscle contractions in the target area.

The State-of-the-art Muscle Sculpting machine with Radio Frequency is a device that delivers HIFEM and Synchronized RF energies simultaneously through a single applicator. The combined technology induces supramaximal muscle contractions and heating in the treated fat & muscle tissues.

This simultaneous combination of two energies has synergistic effects that drastically enhance the results when compared to the individual treatments. RF heating during HIFEM muscle contractions increases activation of proteins stimulating muscle synthesis and enhancing the hypertrophic effect. RF heating of fat tissue results in lipolytic and apoptotic processes leading to the permanent elimination of fat cells while being supported by increased metabolic activity due to the HIFEM contractions.


NO GYM?
NO SWEAT.

Just one 30-minute Musculpting session is equal to 30,000 sits ups or squats!

If you've ever considered a Brazilian butt lift, Musculpting is a great nonsurgical alternative.

Or if you want ripped abs but don't have hours to spend in the gym...then Musculpting is for you!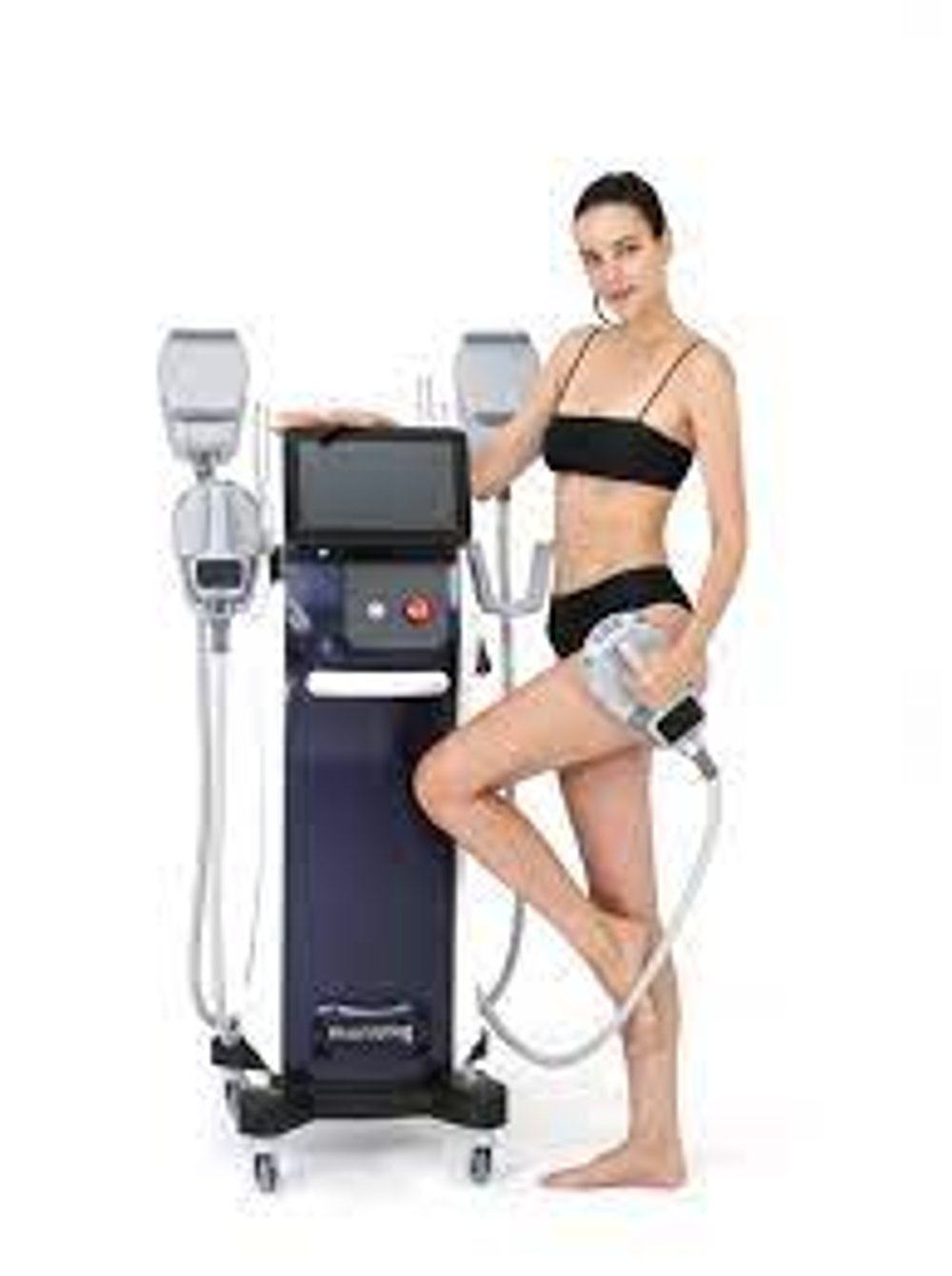 TREATMENT AREAS
Musculpting results are similar to the results of months of time spent at the gym building muscle and burning fat. Many people will notice results within the 2 to 6 weeks following treatment and can continue to see improvement in the months following.

30 minutes of Musculpting = 5.5 hours of exercise

1 Musculpting Treatment = 10 / 30-minute sessions

The medical research shows that after one course of treatment, it can effectively increase 16% of muscle and reduce 19% of fat.
ABS
Eight Sessions.
Twice a week for 4 weeks.
30 minutes each.
BUTT LIFT
Eight Sessions.
Twice a week for 4 weeks.
30 minutes each.
ARMS
Eight Sessions.
Twice a week for 4 weeks.
30 minutes each.
LEGS
Eight Sessions.
Twice a week for 4 weeks.
30 minutes each.
Pelvic Cushion
Eight Sessions.
Twice a week for 4 weeks.
30 minutes each.
HOW DOES MUSCULPTING WORK?
Musculpting is based on high-intensity focused electromagnetic energy. A single Musculpting session causes thousands of powerful muscle contractions which are extremely important in improving the tone and strength of your muscles.

This flex, called a supramaximal contraction, repeats up to 30,000 times over a 30-minute period. The body then breaks down and metabolizes the fat in the targeted area because of the energy used to cause the flexes.

WHO CAN BENEFIT FROM MUSCULPTING?
The best candidates for this treatment are men and women who are within 30 pounds of their ideal weight. It is vital that clients have a healthy lifestyle before Musculpting treatments and plan to maintain the same lifestyle afterward.

We recommend that Musculpting be used to increase muscle mass in the stomach and buttocks for both men and woman. Although treatments can be performed in other areas, such as the arms and legs. We do not recommend it due to the powerfulness of our device. (Musculpting cannot be used in the chest area.)

This treatment is great for postpartum mothers who suffer with separation of rectus abdominis. This is a safe way to heal they stomach without potentially damaging the stomach in the gym.



HOW DOES IT FEEL?
The process is painless and non-invasive. After an Musculpting treatment, clients can immediately resume normal activities, including high impact exercise.

Following the Musculpting sessions, clients may experience a moderate degree of muscle fatigue, stiffness and soreness for 24-72 hours, similar to a high impact workout.
HOW MANY SESSIONS WILL I NEED?
For ideal results, clients should have 8 sessions over the course of 2 weeks spaced every 2-3 days.

Musculpting treatments should be combined with a healthy lifestyle to achieve lasting results. We also highly recommend at the minimum two Musculpting Maintenance sessions every month to keep your results!

WHEN WILL I SEE RESULTS?
You begin to feel tangible results right after the conclusion of the 8th session. The full effect of the Musculpting treatment will occur 6-8 weeks after the last session.

HOW LONG WITH RESULTS LAST?
The increase in the size of muscle will naturally decrease over time if you do not exercise or maintain the area in which Musculpting was performed.

Clients who maintain a regular fitness regimen and eat a healthy diet will see the longest-lasting results.

We highly recommend 2 maintenance treatments performed over 1-week; every month to keep the enhanced muscle mass.
WILL I LOSE WEIGHT?
If your goal is a slimmer, more toned body, then Musculpting is what you're looking for. The important thing to remember is Musculpting is NOT a weight loss program but a muscle building treatment.

CAN I COMBINE CRYOSLIM & MUSCULPTING?
Yes! You can undergo both CryoSlim and Musculpting sessions in the same timeframe. After all, you can't see the muscles you're building if they're covered in too much fat. By reducing fat with CryoSlim, you can customize your body by adding Musculpting sessions so that it's svelte and toned in just the way you want it.

WHO CANNOT DO THIS TREATMENT?
◾ Under 18 Years
◾ Pregnancy
◾ Heart Disease
◾ Severe Hypertension
◾ Thyroid Problems (use cautiously)
◾ Malignant Tumors
◾ Renal Failure
◾ Epilepsy
◾ Muscle Strain
◾ Thrombophlebitis
◾ Stroke/Cerebrovascular disease
◾ Brain injury
◾ Electronic or Metal Implants such as: Metal Contraceptive Ring​, Cardiac Pacemaker, Cardiac Defibrilator, Nerver Stimulator, Drug Pump, Stent, any Metal Object in body

CAN I BE ON MY MENSTRUAL CYCLE?
Musculpting can be performed during your period and is not a contraindication. Although we generally advise our clients to attempt to avoid scheduling their treatment during that time frame. Some of our clients have mentioned increased discomfort in their lower abdominal area and greater mensural flow, cramps, etc.
IS THE MACHINE SAFE?
Musculpting has obtained the dual safety and effectiveness certification of the FDA and CE. The safety has also been proven by 7 independent studies.

The only tissue that responds to the depth of this energy is motor neurons, there is no effect on other tissues including organs.
WHAT SHOULD I WEAR DURING A SESSION?
We recommend wearing comfortable clothes such as exercise attire.